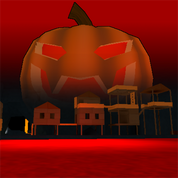 Lord Pumpkin

| | Lord Pumpkin is the Halloween Event boss, he has many devastating abilities, and summoning Soul Fetchers is among one of them. His arena can be described as a hellish cavern residing in the void, full of lava and other random fortifications. |
| --- | --- |
Moves
Lavawave - This only affects the lower platform and kills most of the players as they camp near the ammo box located there
Exploding fireballs - The aiming is as poor as a firebreather's spit because it does not re-adjust and only shoots in the direction it is looking
Spawn minions - Summons Soul Fetchers to drag you into the lava occasionally
Laugh uncontrollably? - Induces fear
Drops
Trivia
Lord Pumpkin is R2D's second boss.
The mesh for Lord Pumpkin is based off of the ROBLOX hat Sinister P., which is no longer obtainable.
Lord Pumpkin has 50,000 health which is the most health any mob has in R2D.
Lord Pumpkin's health is displayed on a big healthbar to the survivors.
NOTE: Due to hackers/glitchers, the cash prize of LordPumpkin was initially removed but was readded in v37.
Lord Pumpkin has a grey brick inside it's mesh which displays its name and hp
Lord Pumpkin fireball shots can't destroy planks
Ad blocker interference detected!
Wikia is a free-to-use site that makes money from advertising. We have a modified experience for viewers using ad blockers

Wikia is not accessible if you've made further modifications. Remove the custom ad blocker rule(s) and the page will load as expected.