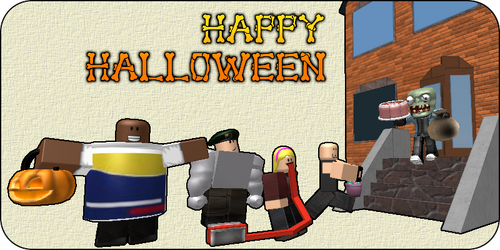 Description
The Halloween Event was launched to celebrate, yes you guessed it, halloween. It contained a strong new boss mob known as Lord Pumpkin. If defeated, the winners can gain a special Halloween Vest that doesnt cost anything and can be used indefinitely. Another thing about this event is that it contains an obby part, thus introduced the new gamemode: OBBY. In the obby you can achive one of two goals: Unlock the "vote for Lord Pumpkin" or find the Halloween Bomb, which is a side obby part in stage one.
Trivia
The Halloween Event 2014 released the first event vest (Halloween Vest)
King Cake and the "Cake" feature return from the 8 million visits event.
Ad blocker interference detected!
Wikia is a free-to-use site that makes money from advertising. We have a modified experience for viewers using ad blockers

Wikia is not accessible if you've made further modifications. Remove the custom ad blocker rule(s) and the page will load as expected.