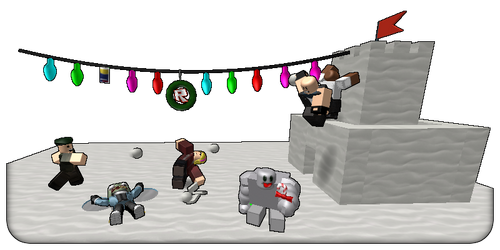 Description
The time when Christ was born is worth celebrating! He's given us forgiveness for our sins and a life with him all we have to do is accept it. So now you have to accept that R2D once again go nuts over another period of time! Snowball fights, Boss fights, special christmas gifts AND MORE will be added in this event. Stay tuned for the epic conclusion of Reason 2 Die - The Christmas Special!
Trivia
King Cake and the "Cake" feature returns to R2D (as always)
This event is the first to include a special gamemode (SnowBallFight or SBF)
It was revealed that the boss & the presents will be released on December 1st, 2014. [Later pushed to December 2nd due to problems releasing it.]
Christmas Gifts or presents cannot be opened until Christmas Day (2014-12-25)
The update also includes the boss Mr Frost with many new features and items ex: The sledge hammer.
Gifts were revealed to be the Golden Ribbon/BowTie, the Christmas/Ice Vest, and the Laser Gun. People knew this because of Place's decals. However, it is pretty obvious which one will come out of the gifts.
Ad blocker interference detected!
Wikia is a free-to-use site that makes money from advertising. We have a modified experience for viewers using ad blockers

Wikia is not accessible if you've made further modifications. Remove the custom ad blocker rule(s) and the page will load as expected.