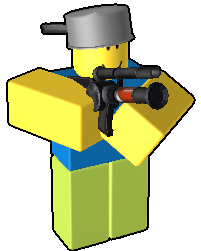 Chinalake

| | The Chinalake is a Grenade Launcher. It's Grenades explodes when having Contact with anything. |
| --- | --- |
| Type of Weapon | Primary Firearm |
| Price | 12,000$ |
| Damage | Differentiated |
| Reload Time | 0.3s |
| Ammo / Round | 1x6 (7 Total) |
"Fires grenades that explodes upon impact. 15 studs blastradius." -Ingame Text
Wikipedia Information
The China Lake Model (or China Lake Pump-Action Grenade Launcher) is a pump-action grenade launcher that was developed by the Special Projects Division of the China Lake Naval Weapons Center, which provided equipment to Navy SEALs.
Trivia
The Chinalake can lead to self-damage and death.
The Chinalake is a Horde-Control weapon.
The Chinalake appears to stun Tanks and can stun-lock if done well.
The Chinalake always shoots up and the grenade makes an arc.
The Chinalake is considered overpowered by some.
Ad blocker interference detected!
Wikia is a free-to-use site that makes money from advertising. We have a modified experience for viewers using ad blockers

Wikia is not accessible if you've made further modifications. Remove the custom ad blocker rule(s) and the page will load as expected.